Superb commentary last month from columnist Jeff Jacoby of the BOSTON GLOBE. The Wisconson experience with reining in their public employee labor unions is a lesson for California — if we can learn from it.
http://www.jeffjacoby.com/11828/the-end-nears-for-a-50-year-mistake

The end nears for a 50-year mistake
by Jeff Jacoby
The Boston Globe
June 10, 2012
IN RETROSPECT, there were two conspicuous giveaways that Wisconsin Governor Scott Walker was headed for victory in last week's recall election.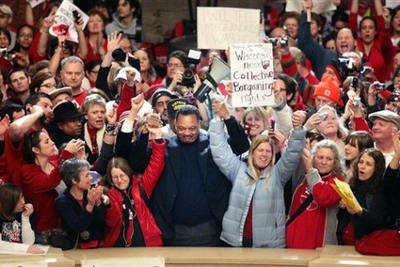 February 2011: Jesse Jackson stands with demonstrators at the Capitol rotunda in Madison, Wis. Union members and allies were protesting a bill restricting collective-bargaining rights for public-sector employees.
One was that the Democrats' campaign against him wound up focusing on just about everything but Walker's law limiting collective bargaining rights for government workers. Sixteen months ago, the Capitol building in Madison was besieged by rioting protesters hell-bent on blocking the changes by any means necessary. Union members and their supporters, incandescent with rage, likened Walker to Adolf Hitler and cheered as Democratic lawmakers fled the state in a bid to force the legislature to a standstill. Once the bill passed, unions and Democrats vowed revenge, and amassed a million signatures on recall petitions.
But the more voters saw of the law's effects, the more they liked it. Dozens of school districts reported millions in savings, most without resorting to layoffs. Property taxes fell. A $3.6 billion state budget deficit turned into a $154 million projected surplus. Walker's measures proved a tonic for the economy, and support for restoring the status quo ante faded — even among Wisconsin Democrats. Long before Election Day, Democratic challenger Tom Barrett had all but dropped the issue of public-sector collective bargaining from his campaign to replace Walker.
The second harbinger was the plunge in public-employee union membership. The most important of Walker's reforms, the change Big Labor had fought most bitterly, was ending the automatic withholding of union dues. That made union membership a matter of choice, not compulsion — and tens of thousands of government workers chose to toss their union cards. More than one-third of the American Federation of Teachers Wisconsin membership quit, reported The Wall Street Journal. At the American Federation of State, County, and Municipal Employees, one of the state's largest unions, the hemorrhaging was worse: AFSCME's Wisconsin rolls shrank by more than 34,000 over the past year, a 55 percent nose-dive.
. . .
TO READ THE FULL COLUMN (and you should), GO TO:
http://www.jeffjacoby.com/11828/the-end-nears-for-a-50-year-mistake