From Jon Fleischman at www.flashreport.org…
There is a saying goes something like, "Adversity Breeds Opportunity."
This came to mind as I was reading stories in the SDUT, on the website of the Voice of San Diego, as well as a great column from FR friend Vince Vasquez on the up and coming SDRostra website — stories all about the massive budget deficit facing the City of San Diego, and the proposal of Mayor Jerry Sanders to try and address the $190 million shortfall.
First and foremost, let me commend Mayor Sanders for putting forward a package that does not seek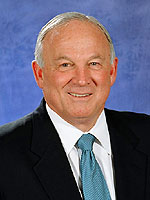 an increase in taxes.  Sanders (pictured), a Republican, understands that in a recession, you simply cannot ask taxpayers to reach deeper into their pockets.  While the recession has hit the city's finances hard (Erik Bruvold, the president of the non-partisan National University System Institute for Policy Research estimates that half of the current deficit can be laid at the feet of the sour economy), it has also hit the pocketbooks of San Diego's residents hard as well.
That said, a closer look at Sanders' proposal to balance the city's books for the next fiscal year calls for over half of the shortfall to be resolved through gimmicks — like we are used to seeing in Sacramento, actually.  This is where the politicians look for any possible way to push out to future years current obligations.  In the case of the Mayor's proposed plan, two examples would be "restructuring" millions of dollars in payments on a large legal settlement (pay more later rather than less today) and putting off needed upgrades in city hall's interior sprinkler system.
Read the entire piece here.