Nathan Fletcher and "Duke" Cunningham
Wednesday, February 8, 2012
Posted at the FlashReport today…
Ex-Congressman Randy "Duke" Cunningham is slowly winding down a lengthy sentence in a federal prison — the crime committed by this war-hero-turned-politician?  He sold America.  Literally.  As a Member of Congress, he personally profited, and not in a small way, by selling his votes.  One of the most stunning pieces of evidence introduced in the trial against Cunningham was a cocktail napkin on which he hand wrote how much money he would have to be paid to deliver specific earmarked spending for the person bribing him.
There is no way to really describe the betrayal of America and her values as was done by Cunningham, although I tried a few years ago in this column.  I remember at the time being so angry — I had walked precincts for "The Duke" in his first election!  Years later I found it in my heart to forgive him personally (barely), but his crimes against the country make him probably the worst scoundrel I have personally known.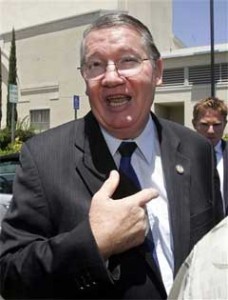 So it was with some degree of cynicism that I rolled my eyes after some news stories came out a couple of weeks ago about how Cunningham wrote a letter opining on American politics from federal prison — a political system from which he will be forever banned in participating as a convicted felon.  My immediate thought was that if Cunningham has time to be a political pundit, then clearly there are some cement cannonballs in a yard somewhere that need to be moved and re-stacked.
It turns out that in his interview, Cunningham made a reference to Nathan Fletcher, currently a member of the State Assembly, who is embroiled in a heated campaign to be San Diego's next Mayor.  You see, once upon a brief time ago, Fletcher served as District Director for then Congressman Cunningham.  His time working for the Congressman was relatively brief, and was chopped up with active military service abroad.  He had left the Congressman's office months before news broke of his being charged.
In the well-respected Voice of San Diego online journalism site, reporter Liam Dillon has managed to pen an entire story, Nathan And The Duke, about Fletcher and his time working for Cunningham.  Cunningham wrote about Fletcher in a hand-written note to Dillon. For the story, Fletcher sat down for Dillon and made it very clear saying, "At the end of the day, I didn't know anything, I didn't do anything, I didn't see anything.  I didn't have any connection or relationship to any of it."
Having known Fletcher for many years, I feel quite certain that this is the case.
So why the headlines and articles (there was a piece in the San Diego City Beat as well) about Fletcher and Cunningham?   The reason is that Fletcher's former employer can't keep his mouth shut and his pen down.  First in correspondence with San Diego City Beat, and then with the Voice of San Diego, Cunningham talks about Fletcher — wishing him well.  I'm sure from Fletcher's perspective it's, "thank you but no thank you" — with a fervent hope that Cunningham's rantings are now done.
I think that the fact that Fletcher ran Cunningham's District Office for a couple of years was going to come out, given the vitriolic nature of the San Diego Mayor's race.  I figured voters would learn of it through a last minute glossy mail piece with a photo of Fletcher and Cunningham, or maybe a 15 second hit-ad on television — and that still may happen.  But we have ex-Rep. Cunningham to thank for this round of stories.
My ultimate sympathies lie with Fletcher in this situation.  I spent six years working for the Sheriff's Department in Orange County to the north of San Diego.  Over a year after I left that office (to publish this website full-time), the former Sheriff, Mike Carona, was charged with several felonies for misuse of his office.  Carona was ultimately convicted on a count of witness tampering for which he is currently serving a six year sentence in federal prison.   Like Fletcher in the case of Cunningham, I knew nothing about Carona's criminal activity.  Like Fletcher, I was never once interviewed by federal investigators about the matter.  And to some, like Fletcher, I suppose I may be asked to disprove a negative, simply because I was in the wrong place at the wrong time to their point of view.
There are a lot of substantial issues that are being discussed in the race for San Diego Mayor.  As will others, I will continue to weigh in on those.  After all, San Diegans have an important decision to make this year as to who will lead their city.
As for Randy "Duke" Cunningham, let's hope that he can get back to making furniture or walking the yard.  And if he does take out his pen and start writing reporters again, let's hope they all do us a favor and throw out the missives unread.
2 Responses to "Nathan Fletcher and "Duke" Cunningham"